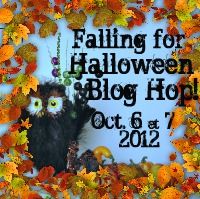 Welcome to the "Falling for Halloween Blog Hop". You should have arrived from
Donna's blog
If not, you will want to go to
Maria's blog
so that you start from the beginning, and don't miss any of the beautiful fall and halloween crafts.
I made this cute little flat back treat box for this blog hop, and then I sent it to my sweet partner, Ronnie aka BeachBum, for a fall swap over on the cricut circle message boards. She opened her box this past Wednesday so it's okay for me to share it now. LOL
I used the Create a Critter cartridge for the pumpkins, and Peachy Keen stamps for their faces. A little twine on their stems, and they were finished! I used the same patterned paper to make this treat bag. You can't tell in the picture, but it is kind of like saddle bags as there is another pocket on the reverse side that will hold treats.
Together, they made a nice set. The bag is holding M&M's and the box has 4 Smarties in it!

Credit where credit is due...I found the patterns for these two pieces at these sites
http://www.splitcoaststampers.com/resources/tutorials/flatbackedtreatbox/
(flatback treat box)
http://peachykeenstamps.blogspot.com/2012/09/heidi-giebel-pocket-treat-box-video.html
(pocket treat box)
Thanks so much for joining in on the hop today. Please be sure to check out all the participant's wonderful projects. I've posted the list below in case you've missed anyone. The next blog you will be visiting belongs to the very talented
Sara Andrews
Maria
stampcutcreate.blogspot.com
Michele
scrap-n-dance.blogspot.com
Paulette
http://scrapalette.blogspot.com/
Cindy
http://www.inlovewithpaper.blogspot.com/
Beth
http://seaswancreations.blogspot.com/
Renee
icameisawicreated.blogspot.com
Debbie @
www.debseclecticthoughts.blogspot.com
Khrista @
http://creativeandcraftyteacher.blogspot.com/
Angela @
Angie's Paper Passion
Nadia @
http://www.withglitteringeyes.com/
Donna @
http://CarolinasCreativeCropper.blogspot.com/
Diane @
http://dianesdribble.blogspot.com/
-----You are here
Sara @
www.sarawandrews.com/
Michele @
www.michelegreen.com